John Madden Football is a football simulation game developed by EA. It is the first installment of the poplular Madden NFL series. John Madden is on the cover. The game has customizable features like weather conditions, quarter lengths, injuries, fatigue, and penalties. There is only one mode, Play Now. You can only play one game at a time since there is no season mode. There are no NFL or NFLPA licences, so there are no real players, stadiums, or teams. Instead, teams are made up. There is also an option to create your own team. This was the first and only Madden NFL game to be released on the Commodore and the Apple II. Robin Antonick and John Friedman developed the MS-DOS version, while Rob Johnson developed the Commodore version.
1
The designers were Trip Hawkins, Robin Antonick, and John Madden.
2
It was released for the Commodore 64, Commodore 128, Apple II, and MS-DOS. The Apple II version came out on June 1, 1988 and the MS-DOS, Commodore 62, and Commodore 128 versions came out in 1989.
5
You can play the game by yourself or with a friend in multiplayer. The ESRB rated the game E (Everyone.)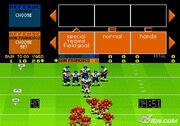 Sources:
____________________________________________________________________________________________
1. Game titles and screens
2. Game instruction manual
3. http://images.wikia.com/egamia/images/b/bb/Madden_football.jpg
4. http://retromedia.ign.com/retro/image/article/897/897939/john-madden-football-20080811024633173_640w.jpg
5. en.wikipedia.org/wiki/John_Madden_Football_(1988)