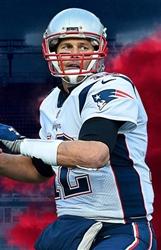 Thomas Edward Patrick Brady, Jr. (born August 3, 1977) is the quarterback for the Tampa Bay Buccaneers. He was the cover athlete for Madden NFL 18. And Madden 22, which he shared with Chiefs Quarterback Patrick Mahomes
Brady first appeared in Madden NFL 2001, where he was known as QB #12. In that installment, QB #12 was a 4th string quarterback on the Patriots with an overall rating of 57. Brady was not featured in the PS1, PS2, N64, or any other versions of Madden NFL 2002 that were released before the (2001) season, the season Brady won his first Super Bowl MVP award. Brady does appear in the GameCube and Xbox versions of Madden NFL 2002, which were released months after the start of the 2001 season, where he had an overall rating of 51.[1]
After winning Super Bowl XXXVI, Brady's overall rating jumped to 84 for Madden NFL 2003. Since then, Brady's overall ratings have been in the 90s, including 99 ratings for Madden NFL 08, Madden NFL 09 and Madden NFL 12.
Player profile
[
]
Since Madden NFL 2003, Tom Brady has generally had high throwing accuracy, throwing power and awareness ratings. As a pocket passer, Brady has low speed, agility and acceleration ratings, as well as an average accuracy when throwing on the run.
Gallery
[
]
References
[
]